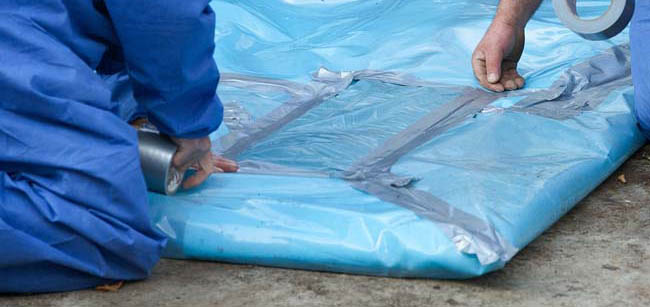 Asbestos poses a risk to you and your family. We are aware of the significant health hazards that the presence of asbestos poses. Our primary goal is your safety. Take Your Rubbish Brisbane is equipped with skilled asbestos consultants who are highly qualified and experienced in the proper abatement of asbestos and other hazardous materials and can execute complete asbestos removal for residential, commercial, and industrial premises.
Quick, Expert Asbestos Removal Ensuring Your Safety
Asbestos removal or asbestos abatement is removing any probable asbestos material using a safe and thorough process to ensure the property is free of all potentially dangerous material. It can be very harmful if it breaks and becomes airborne. Our team of expert removalists have the know how to ensure that all asbestos is removed with minimal disruption

TYR provides the following asbestos removal services:
Remember: As long as asbestos materials are handled carefully and professionally, the risk to you and the community is extremely minimal
Why Choose Take Your Rubbish Brisbane?
Does your house, Garage or other structure contain Asbestos?
In Australia, many houses that were constructed prior to 1990 most likely contain asbestos cement materials. The most common locations are internal as well as external wall cladding i.e fibro as well as eaves.
It should be noted that the Total ban on any activity involving the use of asbestos products didn't come into effect until December 2003. Therefore even houses built in the 90s and early 2000s may contain some form of asbestos containing material
Remember: Houses built prior to the mid -1980s almost definitely contain asbestos
The Process of removing Asbestos safely
We like to ensure that our customers are informed in regards to not only "WHY" asbestos containing materials need to be removed but also and just as importantly "HOW" it is removed. Work safe Queensland has an excellent video detailing the entire process and methodology used to ensure virtually zero asbestos containing particles become airborne. If you have any questions after watching the video below then please feel free to contact one of our specialists directly